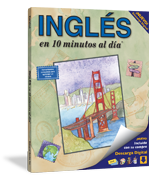 It's a Whole New Way to Play and Have Fun!
Interactive Sticky Labels



In this City Scene, Spanish speakers will learn the words for the places they'll most likely visit when they travel or move to a city where English is spoken.

Just click and drag the labels to the matching items on the screen and you'll see how fun it can be for Spanish speakers to learn English. It's as easy as playing a game!

Click play and the fun begins!






Flash Cards



It's a cool way to build vocabulary and test new language skills!

Simply click the Spanish card which matches the English word. You'll know in an instant if you got it right, and if you missed it, just try again.

Then "flip" the cards to introduce the Spanish word first. It's that easy.

Have fun and play!






Numbers and Interactive Colors



Yes, there's more! These interactive vignettes are also included. They're just as fun and you'll learn numbers and colors just as easily!